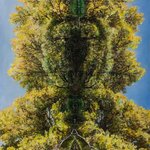 Rachel Sabin
Rachel Sabin is a Portland, Oregon based visual artist. She received her Bachelor of Arts degree from Willamette University where she was a recipient of the Carson Undergraduate Grant for Independent Research. Her art has been shown at the Hallie Ford Museum of Art as well as Blackfish Gallery and Mary Lou Zeek Gallery II, located in Oregon.
Rachel Sabin's recent oil paintings center around found objects, particularly vintage photographs and ephemera retrieved from sidewalks, streets and discard piles.
By recreating images and patterns, Rachel emphasizes the aesthetic beauty of seemingly mundane objects, allowing their features and designs to become more important than their original function. Working from abandoned antique portraits, she creates a new narrative for the subjects based on their facial features and body language.
Further paintings can be viewed on Rachel's website: www.rachelsabin.com
Read more
Rachel Sabin's Store
Filter
7d0be8ca-a5f9-4481-a450-b279dd2cc29d

Popular

d5e595d8-553e-491c-bbf8-d0563ab76b05

All