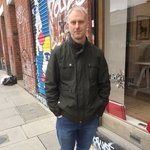 Radar Communication
Visual Artist // road + mountain biker // Much of my visual art is based around the themes of symmetry and recycling - either physically or digitally. Many of my works combine various media of both traditional and digital techniques to create the final piece. I am inspired by urban textures, graphic design, pattern design, traveling and different cultures. Website: http://radarcommunication.com/ Twitter: https://twitter.com/radaruk Blurb: http://www.blurb.com/user/mdchapman Instagram: http://instagram.com/radarcommunication Email me at: contact@radarcommunication.com Mark Radar Communication joined Society6 on July 27, 2012
More
Visual Artist // road + mountain biker //
Much of my visual art is based around the themes of symmetry and recycling - either physically or digitally. Many of my works combine various media of both traditional and digital techniques to create the final piece. I am inspired by urban textures, graphic design, pattern design, traveling and different cultures.
Website: http://radarcommunication.com/ Twitter: https://twitter.com/radaruk Blurb: http://www.blurb.com/user/mdchapman Instagram: http://instagram.com/radarcommunication
Email me at: contact@radarcommunication.com
Mark
Radar Communication joined Society6 on July 27, 2012.