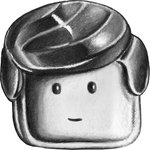 Raddington Falls
Drawings by artist RAD Rick Anthony Diaz. Game Theory is the third series of colored pencil drawings within the larger series of Raddington Falls. They combine video and board game inspired imagery with LEGOtm mini figures. Lost & Found is a street art series where art is placed on public streets to be found like a scavenger hunt. Several prints from this series are available here. Raddington Falls joined Society6 on October 17, 2013
More
Drawings by artist RAD Rick Anthony Diaz. Game Theory is the third series of colored pencil drawings within the larger series of Raddington Falls. They combine video and board game inspired imagery with LEGOtm mini figures.
Lost & Found is a street art series where art is placed on public streets to be found like a scavenger hunt. Several prints from this series are available here.
Raddington Falls joined Society6 on October 17, 2013.
Duvet Covers by Raddington Falls
15 results
Filter
Department

Dept

Pillows & Bedding