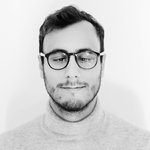 Radoslav Zhelev
I am a graphic designer and image maker.
I like to look at object around me and make up little stories of who would they be and how would they act if they were alive (secretly I believe they are).
My illustrations are based on people and objects I see around (and their little quirks), on books and music—you know—all those things that make us feel good.
So, thanks for stopping by, matey!
Read more
Biker Tanks by Radoslav Zhelev
4 results
Filter