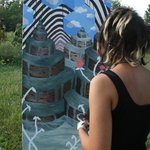 Rae Vena
A live painter, Rae Vena can be found traveling cross country to perform at various festivals, house shows & sidewalks near you! Using live music as her inspiration & motivation for her acrylic works, she tries to always bring something new & interesting to us on her easel. Her artwork was once described to her as pop, op visionary surrealism with cubular tendencies. You can find more information on upcoming live shows , and original art for sale on her website at WWW.RAEVENA.COM Regular updates on new paintings, and tour photos at her Facebook art page under Rae Vena- Visual artist. Rae Vena joined Society6 on October 24, 2011
More
A live painter, Rae Vena can be found traveling cross country to perform at various festivals, house shows & sidewalks near you! Using live music as her inspiration & motivation for her acrylic works, she tries to always bring something new & interesting to us on her easel. Her artwork was once described to her as pop, op visionary surrealism with cubular tendencies.
You can find more information on upcoming live shows , and original art for sale on her website at WWW.RAEVENA.COM Regular updates on new paintings, and tour photos at her Facebook art page under Rae Vena- Visual artist.
Rae Vena joined Society6 on October 24, 2011.
Rae Vena's Store
25 results
Filter