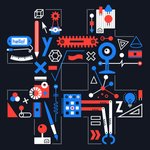 Rafael Macho
My name is Rafael Macho and I am a designer/director. I work with advertising agencies or direct clients, but also sometimes help other companies.
I received my diploma in graphic design from the School of EPSIC, Lausanne, Switzerland. In 1998 I moved to the US to work for a few years with Imaginary Forces. After that I freelanced for several companies, such as Blind, Brand New School, Digital Kitchen, Prologue, etc. I have taught at the UCLA Department of Design Media Arts, Los Angeles, and I have given lectures throughout the USA and Switzerland.
For over 15 years, my curiosity has taken me to play and work with many media, such as print, filmmaking, motion graphics, typography, branding and interactive.
Here is a snapshot of my work. Contact me and I'll show you more.
Read more
Rafael Macho's Store
Filter