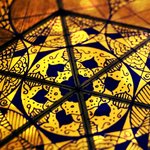 RAFAROMAN
My Vision
Since I was very young, I always had a strong attraction for the unknown, for symbols, and the occult.
The search for the truth that lies behind everything has always been the force that has driven me to embrace the challenges in my life.  This force has led me to many discoveries and is evident my research, human relations, design, work, and trips to far away places.
My life has been a journey of self-discovery observed from the prism of the aesthetic, the beauty and what is hidden behind it, and how through symbols we can create an intimate connection with the Universal truth and ourselves.
This is a journey with no beginning and no end and every step is a potential opportunity to attain enlightenment.
One of the expressions of my studies and experiences is the design and use of sacred symbols, which behind the beauty contain a hidden truth.
Each symbol contains energy waiting to be deciphered and observed, regardless its origin or belief system where it came from.
I enjoy expanding my understanding of these symbols, working on my designs, and sharing the energy and good vibrations with those who are drawn to them.
I hope you like my designs and thank you for supporting my work.
With love, Rafa Roman.
PD. I really appreciate your feedback, so don't hesitate and please leave me a message on the comment box :) Blessings!
Read more