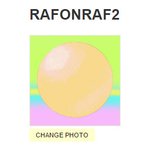 RAFONRAF2
A whole lot a bunch of art craze at your face. Rafonraf2 is serious business! :) I hope you like what I can give you for a price, since as we all know little is for free!!! unlike love The source of all this, is product of the mind at RAFONRAF I am the mind at RAFONRAF, my name is Rafael Maldonado, and I use the tag RAFONRAF on all my work That includes all - media Because im a multi platform Artist I can dance, I can Act, Sing, Rap amateurly very amateur but ok whateva, I can create art, using painting, physical collage, digital collage, art photography, concert photography, documental photography, fashion photography... As you can notice I love photography So next question??? Im a Male Homosexual and single at the moment I Run also a virtual diary that I also use as a TV Video Music Channel, and art space and lately a lot of public forum. yeah!! word up!!! Im mexican, and im based in Mexico Certified artist one could say, who dictates who an artist is? i would get into a very long chat, so yeah I think the exhibits I have done in Monterrey where im based and at MoDA in Hollywood, LA. California, could back me on that about being an artist And at dive bars for my performances!!! :) Wherever I feel like really, even at really expensivs fine bars and clubs too I perform!!! The streets, yeah, that as well??? I dont mind I only want world peace!!! Dont you? Talking about world Big Hi to all my Australian people Yes I conquered Melbourne, it will always feel like that, after given me the best 5 years of my life, making me therefore a better human being and more importantly better artist. All my friends there, lovers and boyfriends really helped both genders, two genders, tri genders, whateva :) I love you all!!! thanks for having me on the radio, Orange Ribbon!!! I will never forget you Australia, forever in my heart!!! So back to selling, the T-shirt line here is meant to have this as a description: HIGH END ART WEARABLES TO COVER YOUR BODY: SOME SUGARY-POP RING ME, ROCKY ROAD ACID CANDY, PURPLE MARATHON IN SPACE, CRAZY CNT DIVA, CLASS ROCK ART, OR NEVER PLAIN SCKR, ITS YOUR CHOICE, ITS YOUR BODY, DO WHAT YOU WANT LOCOS Y LOCAS AND YEAH LOCOLOCAS TOO OR LOCA LOCOS OBV WHATEVA I DONT MIND ;) :) :) RAFONRAF2 joined Society6 on December 2, 2016
More
A whole lot a bunch of art craze at your face. Rafonraf2 is serious business! :)
I hope you like what I can give you for a price, since as we all know little is for free!!! unlike love
The source of all this, is product of the mind at RAFONRAF
I am the mind at RAFONRAF, my name is Rafael Maldonado, and I use the tag RAFONRAF on all my work
That includes all - media
Because im a multi platform Artist
I can dance, I can Act, Sing, Rap amateurly very amateur but ok whateva, I can create art, using painting, physical collage, digital collage, art photography, concert photography, documental photography, fashion photography...
As you can notice I love photography
So next question??? Im a Male Homosexual and single at the moment
I Run also a virtual diary that I also use as a TV Video Music Channel, and art space and lately a lot of public forum. yeah!! word up!!!
Im mexican, and im based in Mexico
Certified artist one could say, who dictates who an artist is? i would get into a very long chat, so yeah
I think the exhibits I have done in Monterrey where im based and at MoDA in Hollywood, LA. California, could back me on that about being an artist
And at dive bars for my performances!!! :)
Wherever I feel like really, even at really expensivs fine bars and clubs too I perform!!!
The streets, yeah, that as well???
I dont mind
I only want world peace!!! Dont you?
Talking about world
Big Hi to all my Australian people
Yes I conquered Melbourne, it will always feel like that, after given me the best 5 years of my life, making me therefore a better human being and more importantly better artist. All my friends there, lovers and boyfriends really helped both genders, two genders, tri genders, whateva :)
I love you all!!!
thanks for having me on the radio, Orange Ribbon!!!
I will never forget you Australia, forever in my heart!!!
So back to selling, the T-shirt line here is meant to have this as a description:
HIGH END ART WEARABLES TO COVER YOUR BODY:
SOME SUGARY-POP RING ME, ROCKY ROAD ACID CANDY, PURPLE MARATHON IN SPACE, CRAZY CNT DIVA, CLASS ROCK ART, OR NEVER PLAIN SCKR, ITS YOUR CHOICE, ITS YOUR BODY, DO WHAT YOU WANT LOCOS Y LOCAS AND YEAH LOCOLOCAS TOO OR LOCA LOCOS OBV WHATEVA I DONT MIND ;) :) :)
RAFONRAF2 joined Society6 on December 2, 2016.