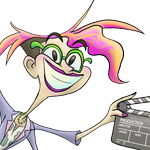 Rag-N-Bone Studio
Dante DeStefano is a designer, artist, and filmmaker. Working with a variety of clients for everything from magazine covers to character design and TV commercials since 2008, she continues this work in film, television, digital & print media. She specializes in animation design and illustration for kids & immature adults.
In 2011, she founded Rag-N-Bone Studio as part of her mission to bring creative people together to make awesome artwork and share stories on a larger scale. Her vision is to spend her life making art with other creative folks. She believes that art makes the world a better place and she wants to people happy by filling the world with art. Everyone who works with Rag-N-Bone becomes part of that vision by supporting the arts.
She's worked with clients such as Adult Swim, Primal Screen, BBDO, the Home Depot, Green Pants Productions, Toys 'R' Us, and The Center for Puppetry Arts.
Dante has a passion for drawing and painting, a great eye for color and a love of all things out of the ordinary. A multidisciplinary artist in her personal projects, she knows her way around a stop motion set, puppet stage, drafting desk, easel, and Cintiq. Dante also manages a community art gallery, which helps her mission to spread wonder with art.
Rag-N-Bone is a small, family business. Dante runs Rag-N-Bone with her husband, Colin, the studio's motion graphics designer and editor.
Read more
Rag N Bone Studio's Store