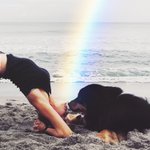 Rainbow Love
Just trying to make our world a little happier, friendly and more colorful.
As a lover of Rainbows and all things colorful since I was a young girl, I started a photo editing app called Rainbow Love in 2014. I'm a graphic designer and yoga instructor and I create colorful art to awaken our happiness and love in the spirit of magic and optimism. I'm so happy to share some of my favorite designs with you on Society6. Fill your home with a little color and fun.
Rainbow Love (R) is a registered trademark.
Read more
Rainbow Love's Store
Filter