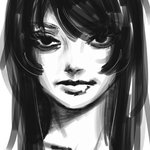 Rakkou
Welcome to my page! Here you can find some of my drawings. I hope you'll be enjoyed by them as much as I am happy of sharing my art with you! I mostly draw fan art pieces (Pin Ups) of my favourite stuff. Such as videogames, anime, etcetera. You can find my art on deviantArt: http://ryucchan.deviantart.com/ And also on pixiv: http://www.pixiv.net/member.php?id=2746182 Rakkou joined Society6 on July 21, 2015
More
Welcome to my page! Here you can find some of my drawings. I hope you'll be enjoyed by them as much as I am happy of sharing my art with you! I mostly draw fan art pieces (Pin Ups) of my favourite stuff. Such as videogames, anime, etcetera.
You can find my art on deviantArt: http://ryucchan.deviantart.com/ And also on pixiv: http://www.pixiv.net/member.php?id=2746182
Rakkou joined Society6 on July 21, 2015.
Framed Prints by Rakkou
62 results
Filter