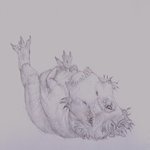 Ralph Stickley
I'm a London-based actor and illustrator with a passion for the prehistoric. Got any ancient beasties you'd like to see realised? A favourite Dinosaur you think would make an awesome iPhone case design? Get in contact with me at ralphstickley@hotmail.co.uk, and I'll see what I can do! Ralph Stickley joined Society6 on May 10, 2013
More
I'm a London-based actor and illustrator with a passion for the prehistoric.
Got any ancient beasties you'd like to see realised? A favourite Dinosaur you think would make an awesome iPhone case design? Get in contact with me at ralphstickley@hotmail.co.uk, and I'll see what I can do!
Ralph Stickley joined Society6 on May 10, 2013.
Bedding by Ralph Stickley
1 result
Filter
Department

Dept

Pillows & Bedding