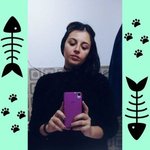 Ramona's Arts and Apparel
Hi! My real name is Ana Filipa (aka Ramona Bats) and I mainly do illustration: traditional drawing and acrylic painting, most of it fantasy themed, my favorite. I also like to paint wooden boxes and make comics too. I currently teach english classes at elementary school two hours a day, but my goal is to live only off my art, wich is what I've studied for. I draw since I can remember, so I decided my path was going to be a degree in Arts and Multimedia in the Audiovisuals branch - Faculty of Fine Arts- University of Lisbon, and a Directing (Cinema) course at Restart - Creativity, Arts and Technology's Institute. These courses gave me knowledge about drawing, photography, concept art, cinema, illustration and interpretation of visual symbols and images. Ramona's Arts and Apparel is meant to be a store with all the best I have to offer, hopefully taking a physical form in a distant future. You can also follow me at: ramonasartsandapparel.blogspot.pt instagram.com/punkpkin/ Feel free to leave your opinions or suggestions, or to ask for a commission. :) Ramona's Arts and Apparel joined Society6 on October 26, 2014
More
Hi! My real name is Ana Filipa (aka Ramona Bats) and I mainly do illustration: traditional drawing and acrylic painting, most of it fantasy themed, my favorite. I also like to paint wooden boxes and make comics too. I currently teach english classes at elementary school two hours a day, but my goal is to live only off my art, wich is what I've studied for. I draw since I can remember, so I decided my path was going to be a degree in Arts and Multimedia in the Audiovisuals branch - Faculty of Fine Arts- University of Lisbon, and a Directing (Cinema) course at Restart - Creativity, Arts and Technology's Institute. These courses gave me knowledge about drawing, photography, concept art, cinema, illustration and interpretation of visual symbols and images.
Ramona's Arts and Apparel is meant to be a store with all the best I have to offer, hopefully taking a physical form in a distant future.
You can also follow me at: ramonasartsandapparel.blogspot.pt instagram.com/punkpkin/
Feel free to leave your opinions or suggestions, or to ask for a commission. :)
Ramona's Arts and Apparel joined Society6 on October 26, 2014.
Ramona's Arts and Apparel's Store
93 results
Filter