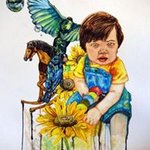 Ramon Valdez
Ramon Valdez paints with every color he can find, whether it's in nature or not, from portraits to pages torn from imaginary children's books, hoping to elevate the medium past the preconceived notions of what people think watercolor is. His images try to express that watercolor is not a quiet and muted thing, but a vibrant and loud medium that screams to be noticed. His work has been exhibited in galleries locally and nationally. Growing up in Garden City, Kansas, Ramon uses the influences of a small-town upbringing, story-telling, and music to infuse his paintings with life. The artist currently resides in Overland Park, Kansas. His work can be previewed at fwordsart.see.me and www.fwordsart.tumblr.com Ramon Valdez joined Society6 on August 2, 2014
More
Ramon Valdez paints with every color he can find, whether it's in nature or not, from portraits to pages torn from imaginary children's books, hoping to elevate the medium past the preconceived notions of what people think watercolor is. His images try to express that watercolor is not a quiet and muted thing, but a vibrant and loud medium that screams to be noticed. His work has been exhibited in galleries locally and nationally.
Growing up in Garden City, Kansas, Ramon uses the influences of a small-town upbringing, story-telling, and music to infuse his paintings with life. The artist currently resides in Overland Park, Kansas.
His work can be previewed at fwordsart.see.me and www.fwordsart.tumblr.com
Ramon Valdez joined Society6 on August 2, 2014.