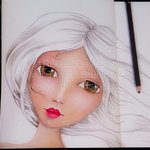 Ranae'
I am a Southern Florida based artist who is surrounded by a wonderful network of friends. The best of those friends is my boyfriend, Rob, who has been very instrumental in supporting me and helping me to rebuild and move forward into my Artistic Career.
My style is always redeveloping but recently could be categorized as a Whimsical Mixed Media style. I love mixing up the various mediums to create both bold and subtle colors, textures and interest. My favorite mix is watercolor mediums mixed with acrylic and/or ink based mediums.
I am inspired by the simple things in life. A smile given, a single daisy in a field, a blotch of red color in an otherwise drab setting, a child chasing butterflies…
I am Certified with Copic Markers and a Designer Member of the Craft & Hobby Association.
Read more