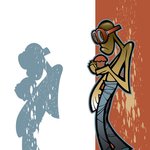 Rand247
Roger Andrews is an experienced, freelance illustrator specializing in conceptual illustration with expertise in character creation and design. He is among the most published artists in the world, although you would never know it. His smooth line and gracious smile is always at the ready. His artwork has helped out the successful Hasbro lines for Galactic Heroes, Spidey Super Squad, Super Hero Squad, and Transformers. He is or has been an authorized illustrator for Hasbro Inc., Lucas Licensing, Disney, Digitas, BBDO, Saatchi & Saatchi, Deutsch Inc., and Hill Holliday. In addition, Roger's artwork has been in the following comics Zombie Bomb, Atomic Robo and the cover of a limited edition Lady Death. Rand247 joined Society6 on January 3, 2014
More
Roger Andrews is an experienced, freelance illustrator specializing in conceptual illustration with expertise in character creation and design. He is among the most published artists in the world, although you would never know it. His smooth line and gracious smile is always at the ready.
His artwork has helped out the successful Hasbro lines for Galactic Heroes, Spidey Super Squad, Super Hero Squad, and Transformers. He is or has been an authorized illustrator for Hasbro Inc., Lucas Licensing, Disney, Digitas, BBDO, Saatchi & Saatchi, Deutsch Inc., and Hill Holliday. In addition, Roger's artwork has been in the following comics Zombie Bomb, Atomic Robo and the cover of a limited edition Lady Death.
Rand247 joined Society6 on January 3, 2014.
Rand247's Store
59 results
Filter