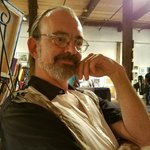 randall hobbs art
Randall's art tells stories about his artistic philosophy and his views on culture. His art expresses life as a process of ever increasing learning and growth about himself and the world around him. His art is usually ambiguous and doesn't always have a clear contextual message. He believes that while the artist may express an emotion or idea the viewer only finds meaning through her or his experiences. The artists creates, the viewer sees.Randall is self-taught began art at the age of 40 as a watercolorist. He found the mixing of water and pigment astounding and exhilarating as it exploded and blended in unique ways. In his early 50's he was unable to work because of a debilitating disease. After surgery and a cure he began painting again, but discovered watercolors didn't express his motivation to live with an intensity which was lacking before the surgery. After some exploration he discovered mixed media and artist's books. He recently began painting watercolors again finding a new level of beauty in the blending of colors. Randall explores art using three major ideas: abstraction, personal observations, and societal observations. These themes are expressed using unique colors, materials, language, or in the use of space, on a page or in three dimensions. Randall holds a diploma in acupuncture from The New England School of Acupuncture, 1994, and is a graduate of Wichita State University with a Bachelor of Music Performance, 1984. https://www.facebook.com/randallhobbsart/ randall hobbs art joined Society6 on July 3, 2017
More
Randall's art tells stories about his artistic philosophy and his views on culture. His art expresses life as a process of ever increasing learning and growth about himself and the world around him. His art is usually ambiguous and doesn't always have a clear contextual message. He believes that while the artist may express an emotion or idea the viewer only finds meaning through her or his experiences. The artists creates, the viewer sees.Randall is self-taught began art at the age of 40 as a watercolorist. He found the mixing of water and pigment astounding and exhilarating as it exploded and blended in unique ways. In his early 50's he was unable to work because of a debilitating disease. After surgery and a cure he began painting again, but discovered watercolors didn't express his motivation to live with an intensity which was lacking before the surgery. After some exploration he discovered mixed media and artist's books. He recently began painting watercolors again finding a new level of beauty in the blending of colors.
Randall explores art using three major ideas: abstraction, personal observations, and societal observations. These themes are expressed using unique colors, materials, language, or in the use of space, on a page or in three dimensions.
Randall holds a diploma in acupuncture from The New England School of Acupuncture, 1994, and is a graduate of Wichita State University with a Bachelor of Music Performance, 1984.
https://www.facebook.com/randallhobbsart/
randall hobbs art joined Society6 on July 3, 2017.