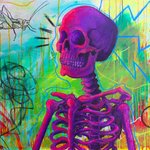 RandyConnerPaintings
Randy Conner is a self-taught artist who currently resides in San Diego, California. His work is bold, bright, and cryptic. Containing many hidden themes and messages, as well as bizarre imagery, Conner's paintings demand much more than a quick glance. Working primarily in acrylic paint and oil pastels, Conner strives to create images that are difficult to forget. He says, "I want the viewer to feel drawn in, confused, excited, and energized." Conner's paintings are hanging in San Diego, Los Angeles, Nashville, Denver, Chicago, Japan, and Switzerland. See more at: www.facebook.com/randyconnerpaintings RandyConnerPaintings joined Society6 on March 18, 2013
More
Randy Conner is a self-taught artist who currently resides in San Diego, California. His work is bold, bright, and cryptic. Containing many hidden themes and messages, as well as bizarre imagery, Conner's paintings demand much more than a quick glance. Working primarily in acrylic paint and oil pastels, Conner strives to create images that are difficult to forget. He says, "I want the viewer to feel drawn in, confused, excited, and energized."
Conner's paintings are hanging in San Diego, Los Angeles, Nashville, Denver, Chicago, Japan, and Switzerland.
See more at:
www.facebook.com/randyconnerpaintings
RandyConnerPaintings joined Society6 on March 18, 2013.
RandyConnerPaintings's Store
279 results
Filter