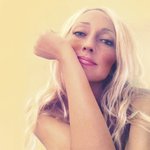 Raquel García Maciá
Spanish. Besides being a painter, Raquel is also an illustrator, graphic designer and a writer of tales for children, with over fifteen years of experience working with European publishers and Spanish and Italian advertising agencies. She can put her valued pictorial abilities to work on any and all media, from the most traditional to the newest digital techniques.   Her award-winning works have been displayed in various venues, among others, Rome, the "International Bologna Book Fair" in Boulogne, the "Children's Museum of Manhattan" in New York, Valencia, and Belgium. At present, she complements her activity as a graphical illustrator with her big passion: paintings.
personal web site: http://www.raquelgarcia.net
Your own personal Portrait! Contact me and I'll answer you immediately!
Also, feel free to contact me if you'd like one of my paintings printed on a canvas, iPhone case, mug or everything else. raquelondia@gmail.com
Read more
Raquel García Maciá's Store
Filter