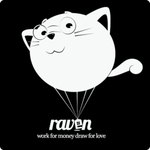 Raven Ngo
Hello, My name is Raven, a Vietnam based Illustrator and Graphic Designer. I am currently working in Ho Chi Minh City, Vietnam with passion for illustration and design. All the artworks here are created to show you things I see in daily life from my view. Don't be shy to contact and have a chat, I love to get to know more people. Blog: http://ravenngo.com/ Raven Ngo joined Society6 on July 16, 2011
More
Hello, My name is Raven, a Vietnam based Illustrator and Graphic Designer.
I am currently working in Ho Chi Minh City, Vietnam with passion for illustration and design. All the artworks here are created to show you things I see in daily life from my view.
Don't be shy to contact and have a chat, I love to get to know more people. Blog: http://ravenngo.com/
Raven Ngo joined Society6 on July 16, 2011.