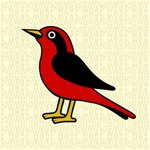 Ramiro Alegre
Soy de Azul Provincia de Buenos Aires, estudie en La Plata diseño en comunicación visual, ciudad en la que me forme tambien de forma autodidacta en ilustracion y muralismo. Me gustan muchos estilos e intento combinarlos y reflejarlos en mis trabajos Tradi, barroco,cubismo , ilustracion, comic, latino americano entre otros . Sin ninguna duda he sido por demasiado tiempo para estar aquí y lo que yo aprendo es: Miedos. superación. fracaso. insistente. inevitable. innumerable. inconsistente. evasivo. incongruente. cognitivo. intuitivo ------------------------------------------------------------------------------------ I am from Azul province of Buenos Aires, study in La Plata design in visual community, city in which I also form self-taught in illustration and muralism. I like many styles and try to combine them and reflect in my works Tradition, Baroque, Cubism, Illustration, Comic, Latin American among others Without any doubt I have been for too long to be here and what I am learning is: Fears. overcoming. failure. insistent. inevitable. Innumerable. inconsistent. evasive. incongruous. cognitive. intuitive. https://www.behance.net/rawa Ramiro Alegre joined Society6 on January 3, 2017
More
Soy de Azul Provincia de Buenos Aires, estudie en La Plata diseño en comunicación visual, ciudad en la que me forme tambien de forma autodidacta en ilustracion y muralismo. Me gustan muchos estilos e intento combinarlos y reflejarlos en mis trabajos Tradi, barroco,cubismo , ilustracion, comic, latino americano entre otros . Sin ninguna duda he sido por demasiado tiempo para estar aquí y lo que yo aprendo es: Miedos. superación. fracaso. insistente. inevitable. innumerable. inconsistente. evasivo. incongruente. cognitivo. intuitivo
I am from Azul province of Buenos Aires, study in La Plata design in visual community, city in which I also form self-taught in illustration and muralism. I like many styles and try to combine them and reflect in my works Tradition, Baroque, Cubism, Illustration, Comic, Latin American among others Without any doubt I have been for too long to be here and what I am learning is: Fears. overcoming. failure. insistent. inevitable. Innumerable. inconsistent. evasive. incongruous. cognitive. intuitive.
https://www.behance.net/rawa
Ramiro Alegre joined Society6 on January 3, 2017.