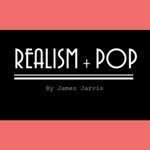 REALISM + POP
Collect your piece of history with a 'Press Line Dot' art print by REALISM + POP. An art project that utilises black and white drawing collages to document the main headline news of that month merging themes of polictics and popular culture. The concept is to merge the collages into a movie poster look with the bold REALISM + POP drawing style. By James Jarvis www.realismpop.com REALISM + POP joined Society6 on May 4, 2014
More
Collect your piece of history with a 'Press Line Dot' art print by REALISM + POP.
An art project that utilises black and white drawing collages to document the main headline news of that month merging themes of polictics and popular culture. The concept is to merge the collages into a movie poster look with the bold REALISM + POP drawing style.
By James Jarvis
www.realismpop.com
REALISM + POP joined Society6 on May 4, 2014.
REALISM + POP's Store
8 result
Filter