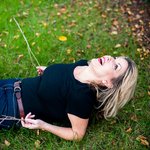 Rebecca Antonelli
I believe that art is as important as technology, philanthropy and education. It took me 49 years to make my first painting. If you like it, buy it. If you're just looking, look ON!!! Feel free to contact me and let me know what you think. Your opinion is always perfect! Rebecca Antonelli joined Society6 on October 19, 2015
More
I believe that art is as important as technology, philanthropy and education. It took me 49 years to make my first painting. If you like it, buy it. If you're just looking, look ON!!! Feel free to contact me and let me know what you think.
Your opinion is always perfect!
Rebecca Antonelli joined Society6 on October 19, 2015.