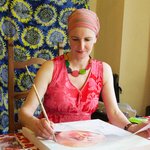 Rebecca Jelbert
Rebecca Jelbert is an artist based in Bristol, in the United Kingdom. She has exhibited and sold her work for many years and has had a number of one man shows.
The series of watercolour paintings on this site are based around the theme of emotions and were created as a collaborative effort between the artists and her three young children. Rebecca painted the realistic facial expressions while her children expressed their ideas for each feeling through colour and imaginative drawing.
Rebecca accepts commissions and her children's portraits can be seen at www.BabyfacePaintings.co.uk.
Read more