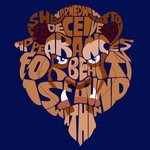 Rebecca McGoran
I'm a huge geek and I love and all geek fandoms! Among these are Studio Ghibli, Buffy, Dr Who, Sherlock, Supernatural, Steven Universe, Harry Potter, Disney, Marvel and gaming. Art, especially typography is a hobby of mine and I am no pro. Thank you for liking or buying my designs. If you have any requests for designs please message me. For more of my art go to: http://fembot13.deviantart.com/ or my other shop http://www.redbubble.com/people/geekartistry Rebecca McGoran joined Society6 on October 30, 2014
More
I'm a huge geek and I love and all geek fandoms! Among these are Studio Ghibli, Buffy, Dr Who, Sherlock, Supernatural, Steven Universe, Harry Potter, Disney, Marvel and gaming. Art, especially typography is a hobby of mine and I am no pro.
Thank you for liking or buying my designs. If you have any requests for designs please message me. For more of my art go to: http://fembot13.deviantart.com/ or my other shop http://www.redbubble.com/people/geekartistry
Rebecca McGoran joined Society6 on October 30, 2014.