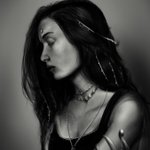 Bekah Basically
"Great art picks up where nature left off." - Marc Chagall My name is Rebekah! I'm a growing artist, animator, and model. (Just kidding!) My goal is to share my art with the world and, in turn, inspire others to do this same with themselves. I hope you enjoy my art! Find me here also: DeviantART: www.rebekahkroeplin.deviantart.com/ Facebook: www.facebook.com/RebekahKroeplin Tumblr: www.bekah-basically.tumblr.com/ Wattpad: www.wattpad.com/user/RebekahKroeplin Bekah Basically joined Society6 on October 6, 2013
More
"Great art picks up where nature left off." - Marc Chagall
My name is Rebekah! I'm a growing artist, animator, and model. (Just kidding!) My goal is to share my art with the world and, in turn, inspire others to do this same with themselves. I hope you enjoy my art! Find me here also:
DeviantART: www.rebekahkroeplin.deviantart.com/ Facebook: www.facebook.com/RebekahKroeplin Tumblr: www.bekah-basically.tumblr.com/ Wattpad: www.wattpad.com/user/RebekahKroeplin
Bekah Basically joined Society6 on October 6, 2013.