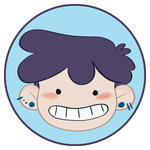 Rebekie Bennington
Rebekie is a NYC based illustrator and storyboard artist. She enjoy drawing fantasy and science fiction illustrations as well as silly cat drawings. She likes wearing boots and eating sandwiches. Want to know what I'm up to? Check out my website at: http://www.rebekieb.com My Facebook Page: http://www.facebook.com/rebekie.b My Tumblr: http://rebekieb.tumblr.com/ Rebekie Bennington joined Society6 on December 8, 2010
More
Rebekie is a NYC based illustrator and storyboard artist. She enjoy drawing fantasy and science fiction illustrations as well as silly cat drawings. She likes wearing boots and eating sandwiches.
Want to know what I'm up to? Check out my website at: http://www.rebekieb.com My Facebook Page: http://www.facebook.com/rebekie.b My Tumblr: http://rebekieb.tumblr.com/
Rebekie Bennington joined Society6 on December 8, 2010.