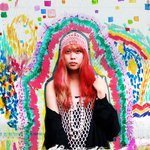 reeseypeasy
Reese is many things she cannot compromise. She is a visual artist, graphic designer, musician, and fashion student; all rolled into one convenient sushi.
Reeseypeasy.com is her virtual cave filled with art experiments, songwriting attempts, twenty-something thingamabobs, and a collection of life's flotsam and jetsam.
Read more
reeseypeasy's Store
Filter
You are currently on society6.com.