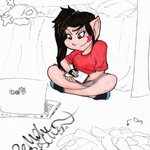 Re Miller the Artist
In all honesty, I don't expect to become a popular artist until after I've started publishing my graphic novels- but until then I wish to post some of my best art here where my I, my family, friends, and the occasional stranger with good taste can get their favorite drawing on whatever they choose! I really enjoy the idea of such a company as s0ciety6 and appreciate the help. you can view the rest of my work here: remillerartist.weebly.com or areonn.deviantart.com Re Miller the Artist joined Society6 on January 16, 2014
More
In all honesty, I don't expect to become a popular artist until after I've started publishing my graphic novels- but until then I wish to post some of my best art here where my I, my family, friends, and the occasional stranger with good taste can get their favorite drawing on whatever they choose! I really enjoy the idea of such a company as s0ciety6 and appreciate the help.
you can view the rest of my work here: remillerartist.weebly.com or areonn.deviantart.com
Re Miller the Artist joined Society6 on January 16, 2014.