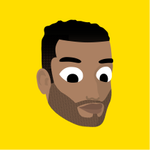 Remy M Ndow
Remy M Ndow is a graduate of the Royal Academy of Fine Arts. He has cut his teeth working on commercials and video clips for artists such as Darrell Cole, Bart Peeters and Helen. His commercial work includes clients such as JBC, Levis Paint and Scarlet. The experience he's gained in these fields has brought him a big advantage in his later work.
In 2019, he has made an award-winning play for Het Paleis, alongside Bart Van Nuffel, combining animation and performance to tell a story of a young Russian immigrant.
Remy continues to tell stories that challenge him, stories about how small things can have a big impact on life.
Read more
Remy M Ndow's Store
Filter