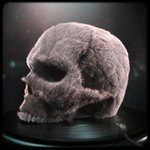 Render Me Black
I have worked as a visual effects artist in Cape Town since graduating with a bachelors in graphic design. My art projects form a personal creative outlet from the rigorous commercial industry in which I have developed my skills.
I would consider my art as a means of exploring visual parodies, through the use of tools available in the realm of computer graphics. The digital medium allows me to create images with a heightened sense of realism by employing skills such as illustration, 3d sculpting, and photo manipulation.
The works are rendered digitally at a high resolution and intended for large format printing. It is only at a large scale that one can appreciate the level of craft and detail that has been imbued in the work.
Read more
Render Me Black's Store
22 results
Filter