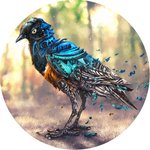 René Campbell Art
René Campbell is a 24 year-old female artist and marine biologist working in Adelaide, South Australia. For all inquiries, please send me a note or contact me through my email below. I don't post products often but do my best to update and provide quality artworks where I can. Thanks for stopping by and for your support! renecampbellart@gmail.com René Campbell Art joined Society6 on December 5, 2011
More
René Campbell is a 24 year-old female artist and marine biologist working in Adelaide, South Australia. For all inquiries, please send me a note or contact me through my email below. I don't post products often but do my best to update and provide quality artworks where I can. Thanks for stopping by and for your support!
renecampbellart@gmail.com
René Campbell Art joined Society6 on December 5, 2011.