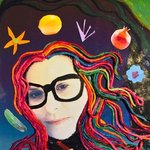 Rene Bien
Rene Bien is a California-base fine artist and illustrator. Born in NYC, she attended Tufts University in Boston, MA and the School of the Museum of Fine Arts in Boston, MA. Rene is the recipient of numerous awards including the Creative Capacity Grant, the Sister City Traveling Fellowship from the City of Boston Arts Council and is MacDowell Art Colony Fellow. She creates her illustrations by combining traditional free hand drawings with digital technology and (at times) an eclectic array of materials including waxed string, clay, paper, oil pastel and colored pencil. Rene approaches her work with a spirit of fun, exploration and whimsy. She draws her inspiration from her passion for food, color, diverse materials, and life's quirky moods and moments. You can find more of her work on her website and blog: www.bnillustrations.com gatheryouringredients.blogspot.com Rene Bien joined Society6 on November 14, 2013
More
Rene Bien is a California-base fine artist and illustrator. Born in NYC, she attended Tufts University in Boston, MA and the School of the Museum of Fine Arts in Boston, MA. Rene is the recipient of numerous awards including the Creative Capacity Grant, the Sister City Traveling Fellowship from the City of Boston Arts Council and is MacDowell Art Colony Fellow. She creates her illustrations by combining traditional free hand drawings with digital technology and (at times) an eclectic array of materials including waxed string, clay, paper, oil pastel and colored pencil.
Rene approaches her work with a spirit of fun, exploration and whimsy. She draws her inspiration from her passion for food, color, diverse materials, and life's quirky moods and moments.
You can find more of her work on her website and blog: www.bnillustrations.com gatheryouringredients.blogspot.com
Rene Bien joined Society6 on November 14, 2013.
Rene Bien's Store
111 results
Filter