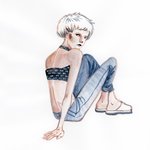 Renee Nault
I'm a Canadian artist, illustrator, and graphic novelist, currently living in Victoria, BC. My work has appeared in books, magazines, newspapers and advertising around the world. I'm currently working on a full length graphic novel called Witchling. Website: www.reneenault.com/ Tumblr: reneenault.tumblr.com/ Twitter: @reneenault Renee Nault joined Society6 on February 1, 2014
More
I'm a Canadian artist, illustrator, and graphic novelist, currently living in Victoria, BC.
My work has appeared in books, magazines, newspapers and advertising around the world. I'm currently working on a full length graphic novel called Witchling.
Website: www.reneenault.com/ Tumblr: reneenault.tumblr.com/ Twitter: @reneenault
Renee Nault joined Society6 on February 1, 2014.
Prints by Renee Nault
30 results
Filter