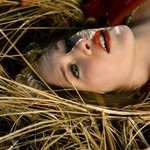 Rene Morrison
Rene Morrison is a product of 1995 who has lived her life thus far in the small town of Ayer, MA. She is a Boston based freelance artist as well as a student studying photography and fine arts at SMFA (School of the Museum of Fine Arts). She has a fascination with secrets and their effects on isolation and intimacy. RENEMORRISON.COM Rene Morrison joined Society6 on September 22, 2010
More
Rene Morrison is a product of 1995 who has lived her life thus far in the small town of Ayer, MA. She is a Boston based freelance artist as well as a student studying photography and fine arts at SMFA (School of the Museum of Fine Arts).
She has a fascination with secrets and their effects on isolation and intimacy.
RENEMORRISON.COM
Rene Morrison joined Society6 on September 22, 2010.
Framed Prints by Rene Morrison
4 result
Filter