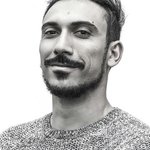 Misha Libertee
Misha Libertee (Mikhail Tsaturyan) is an artist and multidisciplinary designer. Born and raised in a cultural capital of Russia - Saint-Petersburg. Few years ago moved to Hong Kong where he works as a Senior Designer for a British electronic accessories brand. Started off as a graffiti artist in the middle school, Misha got into contemporary art and took part in art exhibitions in Russia, Europe, Hong Kong, China and United States. As a fashion designer he developed private collections of "Libertee" T-shirts, "Priest 13" street-wear clothing. As both graphic and industrial designer Misha worked for different brands and projects from startups to "Winter Olympic Games in Sochi, Russia 2014" http://libertee.ru http://www.behance.net/libertee http://www.saatchionline.com/tsaturyan http://www.redbubble.com/people/libertee misha@libertee.com Misha Libertee joined Society6 on October 28, 2011
More
Misha Libertee (Mikhail Tsaturyan) is an artist and multidisciplinary designer. Born and raised in a cultural capital of Russia - Saint-Petersburg. Few years ago moved to Hong Kong where he works as a Senior Designer for a British electronic accessories brand. Started off as a graffiti artist in the middle school, Misha got into contemporary art and took part in art exhibitions in Russia, Europe, Hong Kong, China and United States. As a fashion designer he developed private collections of "Libertee" T-shirts, "Priest 13" street-wear clothing. As both graphic and industrial designer Misha worked for different brands and projects from startups to "Winter Olympic Games in Sochi, Russia 2014"
http://libertee.ru http://www.behance.net/libertee http://www.saatchionline.com/tsaturyan http://www.redbubble.com/people/libertee misha@libertee.com
Misha Libertee joined Society6 on October 28, 2011.
Rugs by Misha Libertee
8 result
Filter