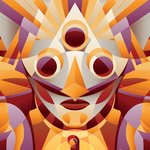 Revoltan
Revoltan is creative studio specialising in vector art, illustration & graphic design based in Yogyakarta, Indonesia. We expressed the passion through vector art illustration, with bright, colourful, dynamic and unique vector characters. See our latest work updates and other great stuff here: http://instagram.com/revoltanstud www.revoltan.com Revoltan joined Society6 on May 12, 2014
More
Revoltan is creative studio specialising in vector art, illustration & graphic design based in Yogyakarta, Indonesia. We expressed the passion through vector art illustration, with bright, colourful, dynamic and unique vector characters.
See our latest work updates and other great stuff here: http://instagram.com/revoltanstud
www.revoltan.com
Revoltan joined Society6 on May 12, 2014.