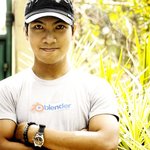 Reynante Martinez
I am an autodidact computer graphics artist and photographer (or so I still think I am) with a degree in Computer Science. My background includes: graphic design, illustration, desktop layouting, web design, pipeline direction, character animation, animation supervision, art direction, modeling, lighting, compositing, and related things. I have been professionally working for almost 8 years now, doing a variety of things related to computer graphics. I am also a fan and an avid user of open source projects including GIMP and Blender - they have taught me some life lessons I wouldn't have learned elsewhere, both technically, psychologically, and artistically. It was almost by accident and mere coincidence that I have had a glimpse of Blender and GIMP, when my older brother introduced me to both tools, not knowing that in the years that will pass, they will be my major tools of the trade, and one that I am truly confident with. During the day, I work as a freelance 3D artist working on short films, CG projects, and what not. During the night, I work as a part-time 3D Animation instructor in Lorma Colleges, where I graduated from. My interests and activities include (when I'm not grokking Blender): Astronomy, Photography, illustration, sketching, Yoga, martial arts, calisthenics, gymnastics, swimming, playtime with pets, constant learning, and traveling. Throughout my career period, there have been some notable projects that I've been involved with, including the 48-hour film project under HandTurkey Studios, the Luke's Escape Project, and BlenderGuru; all of which I am very proud of and happy with. For a complete and in-depth look at my profile and experiences, you can check my CV. Always looking forward to meeting professionals and hobbyists with whom I share the same passion with, even if that means traveling to the far reaches of Earth. Reynante Martinez joined Society6 on October 30, 2013
More
I am an autodidact computer graphics artist and photographer (or so I still think I am) with a degree in Computer Science.
My background includes: graphic design, illustration, desktop layouting, web design, pipeline direction, character animation, animation supervision, art direction, modeling, lighting, compositing, and related things. I have been professionally working for almost 8 years now, doing a variety of things related to computer graphics.
I am also a fan and an avid user of open source projects including GIMP and Blender - they have taught me some life lessons I wouldn't have learned elsewhere, both technically, psychologically, and artistically.
It was almost by accident and mere coincidence that I have had a glimpse of Blender and GIMP, when my older brother introduced me to both tools, not knowing that in the years that will pass, they will be my major tools of the trade, and one that I am truly confident with.
During the day, I work as a freelance 3D artist working on short films, CG projects, and what not.
During the night, I work as a part-time 3D Animation instructor in Lorma Colleges, where I graduated from.
My interests and activities include (when I'm not grokking Blender): Astronomy, Photography, illustration, sketching, Yoga, martial arts, calisthenics, gymnastics, swimming, playtime with pets, constant learning, and traveling.
Throughout my career period, there have been some notable projects that I've been involved with, including the 48-hour film project under HandTurkey Studios, the Luke's Escape Project, and BlenderGuru; all of which I am very proud of and happy with.
For a complete and in-depth look at my profile and experiences, you can check my CV.
Always looking forward to meeting professionals and hobbyists with whom I share the same passion with, even if that means traveling to the far reaches of Earth.
Reynante Martinez joined Society6 on October 30, 2013.