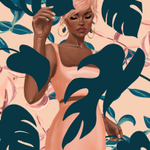 Rebecca Feneley
Hi there! I'm Rebecca Feneley and I'm a fashion and beauty Illustrator based in the North of England.
I specialise in fashion illustration and live sketching, and recently moved into digital illustration for the first time starting in late 2018.
My work centres around a mix of high fashion and fantasy and I often incorporate gothic and fairytale themes. I take a lot of inspiration from Art Nouveau, Haute Couture, vintage animation and fashion editorials as well as a wide range of historic and contemporary artists.
Read more
Rebecca Feneley's Store
Filter