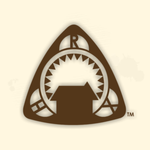 rhxshop
A Publishing House for the Imaginative. At Rotary House Experimental, we put our stock in projects everyone feels great about afterwards, projects that are true to the imagination and creativity that went into making them, and projects that earn more for the authors and artists than the publishing house. Our Mission: Rotary House Experimental focuses on the imagination and compensation of its authors and artists by granting creative control, the majority of profits, and ownership rights to everyone we accept. Please visit our website and check out our webcomic community at: http://www.r-h-x.com rhxshop joined Society6 on December 16, 2011
More
A Publishing House for the Imaginative. At Rotary House Experimental, we put our stock in projects everyone feels great about afterwards, projects that are true to the imagination and creativity that went into making them, and projects that earn more for the authors and artists than the publishing house.
Our Mission: Rotary House Experimental focuses on the imagination and compensation of its authors and artists by granting creative control, the majority of profits, and ownership rights to everyone we accept.
Please visit our website and check out our webcomic community at: http://www.r-h-x.com
rhxshop joined Society6 on December 16, 2011.
Rectangular Pillows by rhxshop
3 results
Filter
Department

Dept

Pillows & Bedding

Products

Rectangular Pillows