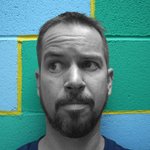 Ric Bascobert
* FOR PURCHASING ORIGINALS, COMMISSIONS, OR QUESTIONS, PLEASE CONTACT THE ARTIST AT YRRGG@YAHOO.COM. * In my art, I often aim for the feeling of 'this reminds me of....' I like to create art with a sense of exploration and experimentation. The mind is an infinite unexplored territory and my art is a reflection of that. I am an optimistic and playful person, and my work tends to be as well. I ask that you bring your imagination along while viewing my work. It makes for a much more enjoyable experience. * Ric's artwork is in private collections around the world. You can see some of Ric B's original works hanging in and around Colorado Springs and Manitou Springs, CO, at The Margarita at PineCreek, the Colorado Springs Conservatory, and Lane Mitchell in Manitou Springs. * To see an interview with Ric B and his sister Rita Scafidi about their 2012 art show, go here: http://vimeo.com/43277929 * If you're interested in wasting 4 minutes of your life watching a short, stupid film by Ric, then go here: http://www.youtube.com/watch?v=ueRpzweh8jk * Ric Bascobert's images do not belong to the public domain. All images in this gallery are owned by Ric Bascobert and © copyrighted, All Rights Reserved. Ric Bascobert joined Society6 on December 30, 2016
More
FOR PURCHASING ORIGINALS, COMMISSIONS, OR QUESTIONS, PLEASE CONTACT THE ARTIST AT YRRGG@YAHOO.COM.
In my art, I often aim for the feeling of 'this reminds me of....' I like to create art with a sense of exploration and experimentation. The mind is an infinite unexplored territory and my art is a reflection of that. I am an optimistic and playful person, and my work tends to be as well. I ask that you bring your imagination along while viewing my work. It makes for a much more enjoyable experience.
Ric's artwork is in private collections around the world. You can see some of Ric B's original works hanging in and around Colorado Springs and Manitou Springs, CO, at The Margarita at PineCreek, the Colorado Springs Conservatory, and Lane Mitchell in Manitou Springs.
To see an interview with Ric B and his sister Rita Scafidi about their 2012 art show, go here: http://vimeo.com/43277929
If you're interested in wasting 4 minutes of your life watching a short, stupid film by Ric, then go here: http://www.youtube.com/watch?v=ueRpzweh8jk
Ric Bascobert's images do not belong to the public domain. All images in this gallery are owned by Ric Bascobert and © copyrighted, All Rights Reserved.
Ric Bascobert joined Society6 on December 30, 2016.
Ric Bascobert's Store
46 results
Filter