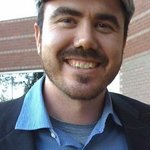 richardfudge
I was raised in Fort Smith, Arkansas and moved to the Memphis area in 1995. Later I attended the University of Memphis and graduated with a Bachelor of Fine Art degree in 2003. My day job is graphic design but my passion is painting and connecting with local artists through The Stirring (which meets at 5:30pm Sundays at Hope Church in Cordova, TN). Currently, I volunteer at The Stirring as the Senior Artist and Gallery Manager. My duties include finding artists to paint on stage during the service, connecting with other artists and artist groups, reviewing and hanging art in the gallery, promoting openings, writing press releases for the exhibits, etc. Honestly, I'm doing more than is really required but I love what I'm doing and building at The Stirring. richardfudge joined Society6 on May 17, 2012
More
I was raised in Fort Smith, Arkansas and moved to the Memphis area in 1995. Later I attended the University of Memphis and graduated with a Bachelor of Fine Art degree in 2003. My day job is graphic design but my passion is painting and connecting with local artists through The Stirring (which meets at 5:30pm Sundays at Hope Church in Cordova, TN).
Currently, I volunteer at The Stirring as the Senior Artist and Gallery Manager. My duties include finding artists to paint on stage during the service, connecting with other artists and artist groups, reviewing and hanging art in the gallery, promoting openings, writing press releases for the exhibits, etc. Honestly, I'm doing more than is really required but I love what I'm doing and building at The Stirring.
richardfudge joined Society6 on May 17, 2012.