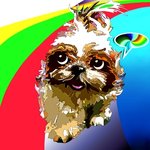 Rich Okun
Maya is a magical Shih Tzu puppy that is my muse for creative expression I am the author/illustrator of 2 published books The Sun, the Moon, the Stars and Maya and Earth, Wind, Fire and Maya - both are children's books that really are for adults as they are illustrated little sayings about enormous things - They are expansive vignettes that take a quote and with a little poem fully illustrated with Maya (a shih tzu puppy) my muse in representative settings. I have been nominated for the Caldecott Medal for 2014 and hope that I can prove worthy. My web site has much more at www.thesunthestarsthemoonandmaya.com I was the youngest student at the Art Students League at 6 year s old, but didn't believe I was good enough to make a career of it so I did a little bit of everything else - I always did my art, but only for spiritual reasons and for the 'give-away' - Now, at 61, I finally got the courage to fly. Thank you for looking. Rich and Maya (of course)... Rich Okun joined Society6 on October 24, 2013
More
Maya is a magical Shih Tzu puppy that is my muse for creative expression I am the author/illustrator of 2 published books The Sun, the Moon, the Stars and Maya and Earth, Wind, Fire and Maya - both are children's books that really are for adults as they are illustrated little sayings about enormous things - They are expansive vignettes that take a quote and with a little poem fully illustrated with Maya (a shih tzu puppy) my muse in representative settings. I have been nominated for the Caldecott Medal for 2014 and hope that I can prove worthy. My web site has much more at www.thesunthestarsthemoonandmaya.com
I was the youngest student at the Art Students League at 6 year s old, but didn't believe I was good enough to make a career of it so I did a little bit of everything else - I always did my art, but only for spiritual reasons and for the 'give-away' - Now, at 61, I finally got the courage to fly. Thank you for looking. Rich and Maya (of course)...
Rich Okun joined Society6 on October 24, 2013.
Rich Okun's Store
1000+ results
Filter