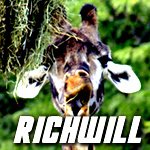 Richwill Company
Who is Richwill Company? Creatives Ashley Santoro and Erik Sciarra are the main faces of Richwill Company. Both Educated in Graphic Design Production (Ashley; Digital Media, Erik: Creative Studio). Erik is a Full time artist but also a successful photographer/designer specialized in marketing. Ashley is a professional graphic designer by day, and an amazing artist by night specialized in Hand-lettering and a heavy print and production background. We are a force of nature and we pour our hearts into every design. Everyday. Thanks for Visiting and Follow us on instagram at: @richwillcompany @ashleydsantoro @erik.sciarra Richwill Company joined Society6 on August 11, 2015
More
Who is Richwill Company?
Creatives Ashley Santoro and Erik Sciarra are the main faces of Richwill Company. Both Educated in Graphic Design Production (Ashley; Digital Media, Erik: Creative Studio).
Erik is a Full time artist but also a successful photographer/designer specialized in marketing.
Ashley is a professional graphic designer by day, and an amazing artist by night specialized in Hand-lettering and a heavy print and production background.
We are a force of nature and we pour our hearts into every design. Everyday.
Thanks for Visiting and Follow us on instagram at:
@richwillcompany
@ashleydsantoro
@erik.sciarra
Richwill Company joined Society6 on August 11, 2015.