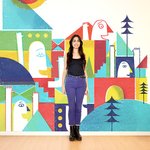 Rigelmoon Illustration
RIGELMOON © – Ilustración www.rigelmoon-illustration.com.ar Buenos Aires, Argentina. Desde muy chica me incliné por las disciplinas creativas y a los 13 años empecé a hacer talleres de arte. A los 19 ya era Técnica en Cerámica Artística y trabajaba en una Galería de Arte. Estudié Fotografía en la E.A.F. mientras completaba la carrera de Diseño Gráfico en la Universidad de Buenos Aires. De la mano del diseño llegué a la Publicidad, donde trabajo como directora de arte desde hace más de 10 años. Con una fuerte base de formación técnica y académica, sumada a la experiencia en diseño, creatividad, dibujo, pintura, cerámica y fotografía, llegué a la ilustración buscando un nuevo canal lúdico donde experimentar y crear combinando disciplinas. Desarrollé mi formación en ilustración primero en Sótano Blanco, luego con Sabina Álvarez Schürmann, Mariana Ruiz Johnson, Cristian Turdera y otros ilustradores reconocidos. Me interesan todos los mundos en los que vive la ilustración, pero principalmente me atrae la creación de libros, infantiles y para todas las edades, donde el diseño, la literatura y la ilustración conviven de una forma mágica. Como ilustradora trabajo con diferentes materiales, sobre todo collage, lápices y técnicas digitales, pero sea cual fuere el medio que utilice, lo que más me interesa de todo, es contar historias. Te invito a que las descubras en cada una de mis obras. -- Since my childhood I have been attracted to creative disciplines, around 13 years old I started art workshops. I turned 19 with a degree in applied arts (artistic pottery) and working at an Art Gallery. I studied Photography at E. A. F. (Escuela Argentina de Fotografía) while I finished my Graphic Design studies at Universidad de Buenos Aires. Design lead me to the advertising industry, where I have been working as an Art Director for more than 10 years. My technical and academic training, plus my design, creativity, drawing, painting, pottery and photographic experience inspired me to find a new ludic path to mix and match all those disciplines. That interest and desire took me to illustration. Sótano Blanco, Sabina Álvarez Schürmann, Mariana Ruiz Johnson, Cristian Turdera and another renowned illustrators nurtured my natural artistic soul. I believe illustration can live in many worlds, and I am fond of all of them, but mainly in those such as books –for kids, and not so young as well– where design, literature and illustration coexist creating a magic dimension. As an illustrator I play with different techniques and materials such as collage, pencils, digitalization, but there is one principle that leads all my works: telling a story. Be my guest and discover it by yourself. Rigelmoon Illustration joined Society6 on October 10, 2016
More
RIGELMOON © – Ilustración www.rigelmoon-illustration.com.ar Buenos Aires, Argentina.
Desde muy chica me incliné por las disciplinas creativas y a los 13 años empecé a hacer talleres de arte. A los 19 ya era Técnica en Cerámica Artística y trabajaba en una Galería de Arte. Estudié Fotografía en la E.A.F. mientras completaba la carrera de Diseño Gráfico en la Universidad de Buenos Aires.
De la mano del diseño llegué a la Publicidad, donde trabajo como directora de arte desde hace más de 10 años.
Con una fuerte base de formación técnica y académica, sumada a la experiencia en diseño, creatividad, dibujo, pintura, cerámica y fotografía, llegué a la ilustración buscando un nuevo canal lúdico donde experimentar y crear combinando disciplinas.
Desarrollé mi formación en ilustración primero en Sótano Blanco, luego con Sabina Álvarez Schürmann, Mariana Ruiz Johnson, Cristian Turdera y otros ilustradores reconocidos.
Me interesan todos los mundos en los que vive la ilustración, pero principalmente me atrae la creación de libros, infantiles y para todas las edades, donde el diseño, la literatura y la ilustración conviven de una forma mágica.
Como ilustradora trabajo con diferentes materiales, sobre todo collage, lápices y técnicas digitales, pero sea cual fuere el medio que utilice, lo que más me interesa de todo, es contar historias. Te invito a que las descubras en cada una de mis obras.
--
Since my childhood I have been attracted to creative disciplines, around 13 years old I started art workshops. I turned 19 with a degree in applied arts (artistic pottery) and working at an Art Gallery. I studied Photography at E. A. F. (Escuela Argentina de Fotografía) while I finished my Graphic Design studies at Universidad de Buenos Aires.
Design lead me to the advertising industry, where I have been working as an Art Director for more than 10 years.
My technical and academic training, plus my design, creativity, drawing, painting, pottery and photographic experience inspired me to find a new ludic path to mix and match all those disciplines. That interest and desire took me to illustration.
Sótano Blanco, Sabina Álvarez Schürmann, Mariana Ruiz Johnson, Cristian Turdera and another renowned illustrators nurtured my natural artistic soul.
I believe illustration can live in many worlds, and I am fond of all of them, but mainly in those such as books –for kids, and not so young as well– where design, literature and illustration coexist creating a magic dimension.
As an illustrator I play with different techniques and materials such as collage, pencils, digitalization, but there is one principle that leads all my works: telling a story. Be my guest and discover it by yourself.
Rigelmoon Illustration joined Society6 on October 10, 2016.