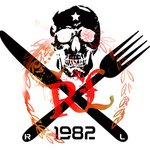 RIGOLEONART
1982 Havana, Cuba, close to the ocean, art and music. Influenced by the greatest artists from his own patio and around the world. Since early age he demonstrated attitudes for art, replacing toys for color pencils, inspired by his surroundings and with enough luck he met renowned artists, that shaped his ways into the unknown, replacing one more time the obvious "brushes", for a single "pen", for over three years and way too early in his life he wrote his memoirs, meeting very interesting people that took him back to his beginnings only this time with more knowledge. Almost by mistake he begins working in the industry of graphics and post modern printing for multinational corporations, from fashion to industrial, for the past 10 years mixing all kind of elements using and exploring materials to create his own art, pop surrealistic using the technology and unconventional methods as his canvas, unique as no other. Skateboard, bicycle, brushes all with the magical touches of a few scars to tell the story. RIGOLEONART joined Society6 on January 24, 2011
More
1982 Havana, Cuba, close to the ocean, art and music. Influenced by the greatest artists from his own patio and around the world. Since early age he demonstrated attitudes for art, replacing toys for color pencils, inspired by his surroundings and with enough luck he met renowned artists, that shaped his ways into the unknown, replacing one more time the obvious "brushes", for a single "pen", for over three years and way too early in his life he wrote his memoirs, meeting very interesting people that took him back to his beginnings only this time with more knowledge. Almost by mistake he begins working in the industry of graphics and post modern printing for multinational corporations, from fashion to industrial, for the past 10 years mixing all kind of elements using and exploring materials to create his own art, pop surrealistic using the technology and unconventional methods as his canvas, unique as no other.
Skateboard, bicycle, brushes all with the magical touches of a few scars to tell the story.
RIGOLEONART joined Society6 on January 24, 2011.