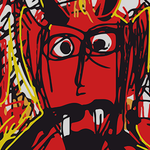 Rimadi
My name is Giannis Georgantas. I'm a super talented creative guy from Greece but I always stay humble and modest. When someone buys one of my illustrations, I run around the house in a frenzy of joy, I dance and sometimes cry. http://www.rimadi.com Rimadi joined Society6 on March 17, 2014
More
My name is Giannis Georgantas. I'm a super talented creative guy from Greece but I always stay humble and modest. When someone buys one of my illustrations, I run around the house in a frenzy of joy, I dance and sometimes cry.
http://www.rimadi.com
Rimadi joined Society6 on March 17, 2014.