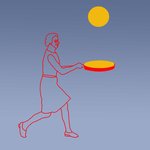 Rina Mualem
I love to look into unconnected shapes, formats and templates, dismantle them into new frame of work and context, and create a new environment of new way of thinking. here you can see, feel and maybe be part of my artistic journey into pop art works. hope you will enjoy it. Rina Mualem joined Society6 on July 16, 2016
More
I love to look into unconnected shapes, formats and templates, dismantle them into new frame of work and context, and create a new environment of new way of thinking.
here you can see, feel and maybe be part of my artistic journey into pop art works. hope you will enjoy it.
Rina Mualem joined Society6 on July 16, 2016.
Rina Mualem's Store
81 results
Filter