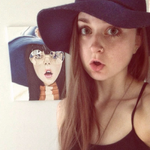 rmfallis
A Mathlete who produces art sometimes. I hope you enjoy viewing my little projects as much as I enjoy creating them. I work mostly in pencil, acrylic and watercolor, and am inspired mostly by people, nature and the beautifully creative minds of other artists. Feel free to comment and/or contact me if you're interested in purchasing originals, prints or requests. rmfallis joined Society6 on November 15, 2014
More
A Mathlete who produces art sometimes. I hope you enjoy viewing my little projects as much as I enjoy creating them.
I work mostly in pencil, acrylic and watercolor, and am inspired mostly by people, nature and the beautifully creative minds of other artists.
Feel free to comment and/or contact me if you're interested in purchasing originals, prints or requests.
rmfallis joined Society6 on November 15, 2014.