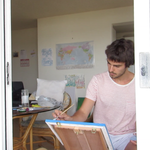 Robbie Allen
I'm a world travelling Artist from the U.K! My dream is to continue travelling around the world, learning from direct life experience, doing what i love to do the most and making a difference in the world, by creating art! I want to make a difference in this world, i want to be the change. If you support me as an artist by buying my artwork, or hiring me to create something unique for you, i can travel further and for longer, and have many more stories to tell and messages to communicate with my creative passion in the future! Thank you, Robbie Robbie Allen joined Society6 on June 26, 2015
More
I'm a world travelling Artist from the U.K!
My dream is to continue travelling around the world, learning from direct life experience, doing what i love to do the most and making a difference in the world, by creating art!
I want to make a difference in this world, i want to be the change.
If you support me as an artist by buying my artwork, or hiring me to create something unique for you, i can travel further and for longer, and have many more stories to tell and messages to communicate with my creative passion in the future!
Thank you,
Robbie
Robbie Allen joined Society6 on June 26, 2015.